The second book of Sherry Ellis's Bubba and Squirt Adventure series, Bubba and Squirt's Mayan Adventure has been released. 
Ms. Ellis will have a month-long online tour to promote the book. Stop by the tour stops to win a free autographed copy of the book:  https://mcbooktours.com/2020/06/01/bubba-and-squirts-mayan-adventure/
Read Full Post »
I am incredibly excited that I have been recognized as a Book Excellence Award Finalist for my book, Bubba and Squirt's Big Dig to China in the Children's Fiction category.
Out of hundreds of books that were entered into the Book Excellence Awards Competition, my book was selected for its high quality writing, design, and overall market appeal.
To view my complete award listing, you can visit 
Read Full Post »
Bubba and Squirt's Big Dig to China was named the Best Book in the category of Juvenile Fiction in the 2018 Pinnacle Book Awards. A complete list of winners can be found here  
Don't Feed the Elephant received an Honorable Mention in the Animals/Pets category of the 2018 Purple Dragonfly Book Awards.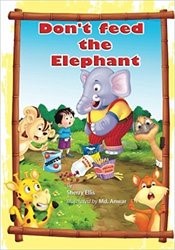 Sherry Ellis's new picture book, Don't Feed the Elephant is now available on Amazon. Buy the paperback edition, get the Kindle edition free. 
Blurb:  People say that you're not supposed to play with your food. But the adventurous little elephant in Don't Feed the Elephant never got the message. This charming children's st...
Read Full Post »
Sherry Ellis received the Thumbtack Best of 2016 Award for teaching music lessons in Alpharetta, Georgia. This is her second year receiving this honor, and it is based on customer reviews. For more information, follow this link:   https://www.thumbtack.com/ga/alpharetta/violin-lessons/ ;
Sherry Ellis was named 2015 Professional of the Year in Music Performance and Instruction by Worldwide Publishing, Inc., an organization that recognizes outstanding executives, professionals, and entrepreneurs around the globe. She is listed in their 19th Edition registry.